So I have done a little revising to my beauty regime and I am in love with a few new products ... and of course I know all you ladies are always on the look out for the new
'

miracle product'
so here's a quick post just to share my new discoveries.
First ... Is your
Maybelline

Great

Lash

Mascara
getting a little boring? Need to shake it up? Want a long, lush look without the Jersey Shore clumps? Then don't walk, RUN, to your nearest Sephora or department store. I am obsessed with:
Long, dark, full... yet pretty natural looking lashes! Perfect! It's a few more buckaroos than your Great Lash .... but the eyes are the windows to the soul ladies ... Don't you think your soul DESERVES prettier curtains?!
BUT if you really can't justify the purchase
(did you SEE the before and after picture??... Damn you economy!)
then I highly recommend
L'Oreal Voluminous Mascara
. L'Oreal is actually the same company as Lancome so you are getting pretty similar stuff!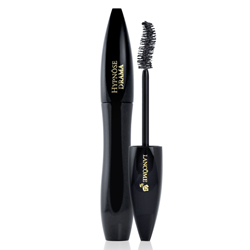 Sans any other make up: Moi with
Hypnose Drama
(Left) and without (Right)
.... whoooa check that out! No clumps! Yes, those are 100% my lashes. Double the length! Ridic right?
If you are as obsessed as I am and wanna buy ASAP, if you order online at
here at Sephora
, join their VIP Club, and then enter the code:
VIBMADNESS
at check out you get
15% off your entire purchase
! Or you can just check out some sample freebees you can load up onto your order
HERE
.
Now let's move on to the basics.
Your face
. I'm kind of crazy about face products because I have just entered my
mid-twenties (
Where does the time go? FML)
. Therefore I have become hyper-conscious about taking care of my skin
now
.... so I don't look super old
later
. Preventative action is key. Once you get a wrinkle.... it's almost impossible to get rid of without Botox or plastic surgery. It's much easier to do a little extra work now and ward off wrinkles before they form .... than to erase them once you have them.
I'm smiling on the inside I swear!
Now if you are in your twenties like me ... it's a little early to start piling on the anti-wrinkle cream. In fact it is BAD for you. Our skin still produces sebum (skin grease ew) unlike the 40 year old women this stuff is made for ... so it clogs your pores and then you get breakouts. Aggggh.
But one key thing to help keeping your skin looking fresh is an exfoliant. Some of the cheaper brands are actually
TOO HARSH
(Like the favorite
St. Ives Apricot Scrub
) on your skin and you end up doing more damage. Yeah, don't feel bad ... I didn't know this either until about 20 facialists were like
"AAHHH NO NO ST. IVES NO NO ST. IVES!"
Last summer I was singing in Aspen and took a little indulgence massage trip to the Remede Spa at the St. Regis (i.e. Thanks Mom!) and they were giving away free samples.... which is how I discovered this miracle scrub.
I put it on my face and it was the first exfoliant I've ever used that didn't feel like I was scrubbing my face off -- And after my face felt smoother than a baby's butt. Upon further research this scrub is also what our favorite
Mad Men
milky skinned beauty,
January Jones
,
uses to give her face that Grace Kelly-porcelain glow.
Betty uses Remede Sweep ... Two-Face used St. Ives Apricot Scrub... awkward
You can only get this miracle scrub from the
Bliss website
. And if the price tag is a little steep and you opt for a cheaper version... then just make sure you aren't using an exfoliator with giant granules. The bigger the granule the worse it is for your skin. And remember to rub gently. For a more economic option I also like
Biore Pore Minimimizing Microderm Exfoliator
.
Also while buying my Remede Sweep I stumbled upon ....
BLISS TRIPLE OXYGEN INSTANT ENERGIZING FACIAL MASK
I had heard tons of raves about this mask and decided to try for myself. Boy those raves reviews weren't lying! One use of this baby and your face looks all fresh and rosy like you just got a good nights sleep ....
(Sleep?? What is that?)
This 5 minute foam mask uses oxygen and lots of antioxidants to rehydrate and rejuvenate the skin. Again, not exactly cheap ... but a little goes a long way thanks to the foaming action and the squirt pump prevents you from using too much ... and you are only supposed to use 3x a week MAX... so I'm predicting the bottle lasts a while. For the tired ladies out there like me, I consider this an investment. Pick up some here at the
Bliss website
.
As a little incentive if you enter the code:

WEL410

at check out Bliss will give a you a

free full-sized sample

of their

Lemon & Sage Body Butter

and

Free Shipping

! (Expires: May 31, 2010)
Celebs like
Eva Longoria
and
Madonna
are fans!
Eva before and after her Oxygen Facial ..... ok not really but I bet it helped!
Alright that's all the discoveries for now. I'm sure I will find more soon and will be sure to share!